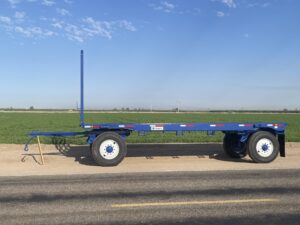 Wouldn't it be great if you could load, unload, and transport your crops faster and more easily? How much time and physical effort would you save? Find out firsthand the difference a quicker loading process can make with a pull-type field trailer from Denair Trailer Mfg!
Our pull-type field trailers are custom-made based on your job, equipment, and needs. All you need to do is tell our trailer manufacturers what you want and need to do your job more efficiently, and we'll take care of the rest.
Agricultural Field Pull Trailers
Pull-type field trailers designed by Denair Trailer Mfg offer many benefits for you and your field workers. They're specially built to make loading and unloading faster, be easier to pull with your truck or equipment, carry heavy loads, and are made to the highest safety standards. Our agricultural field pull trailers also protect your crops during loading and transport.
After over 45 years of custom designing and manufacturing field trailers, we've built up more expertise than anyone else in the market. Also, since we work in the agricultural industry ourselves, we are familiar with the typical challenges that come with planting and harvesting in various seasons and weather conditions. We build trailers with these challenges in mind and work hard to deliver them as quickly as possible.
For more information about our pull-type trailers, check out the other details on this page about their capacity, construction, and other features.
When you're ready to get started on your custom agricultural field pull trailer, give Denair Trailer Mfg a call at 928-627-4716!
Large Capacities
8′ x 21.5′, 24.5′ and 28.5′ bed sizes
Rugged Construction
Formed steel outside frame allows flexibility and strength, plus comfort for hand loading.
Easier Pulling
11 R-22.5 16 ply radial tires for good flotation.
Lunette Eye drawbar with rubber insert pivot hinge. (Pull Trailer)
Ball bearing turntable is bolted on for easy maintenance. No welds-no warps.
Heavy-duty spring suspension perfect for pulling through mud, or over the road.
ABS anti-lock brakes prevent wheel lock common on unloaded trailers, reducing flat spots on tires. A significant increase in tire life with an associated decrease for your tire budget.
Faster Loading / Unloading
Tilting tailboard with over-center locks provide non-snag unloading.
Fold-down headboard allows for stacking of trailers for transport.
Maximum Crop Protection
8.25 x 22.5 10-hole wheels with right offset to keep brake drum inside wheel reducing crop damage.
30" high clearance axles.
80" track widths standard.
2 speed bolt on landing gear with 80" spacing fits row widths. (Semi Trailer)
Greater Safety
ABS Brakes on all wheels, totally self contained and compatible with any non ABS tow vehicle.
Large 16 1/2" x 7" anti-lock air brakes provide for safer stopping ability.
Long life, bump proof, rubber mounted seal beam lights are easily replaced.
All edges are ground smooth.